If you're looking to upgrade or purchase a new small business phone system, you've probably come across the term "PBX", or private branch exchange, in your searching.
If you're not sure what this means for you and your business' phone services, don't worry, Face-2-Face Telecommunications is here to help!  We know there are a number of technical terms out there related to business phone systems that are not always easy to understand, and PBX is definitely one of them.
That's why we've provided this simple, handy breakdown to let you know what a PBX phone system is and what it means for you and your business.
What Is a PBX?
A PBX, sometimes known as a business phone system or unified communications system, is essentially the central hub that manages and routes a company's phone calls and call related data. The term was created decades ago to represent the technology at the time, and has now become more of a generic term in today's use. A PBX is a private telephone system that allows for a business to share a group of phone lines, rather than requiring them to purchase a separate external line for every user or device. It specifically represents a system that has more than a 1-to-1 relationship of lines/phones. With a PBX, the individual lines are a 1-to-many relationship, routed by the central hardware (the PBX itself).
A traditional PBX features the telephone lines, also known as trunks, and stations, which are made up of the telephones, fax machines, modems, and other devices which receive data from the lines. The PBX is what tells the lines which station to send the call to based on specific inputs from the caller or phone user.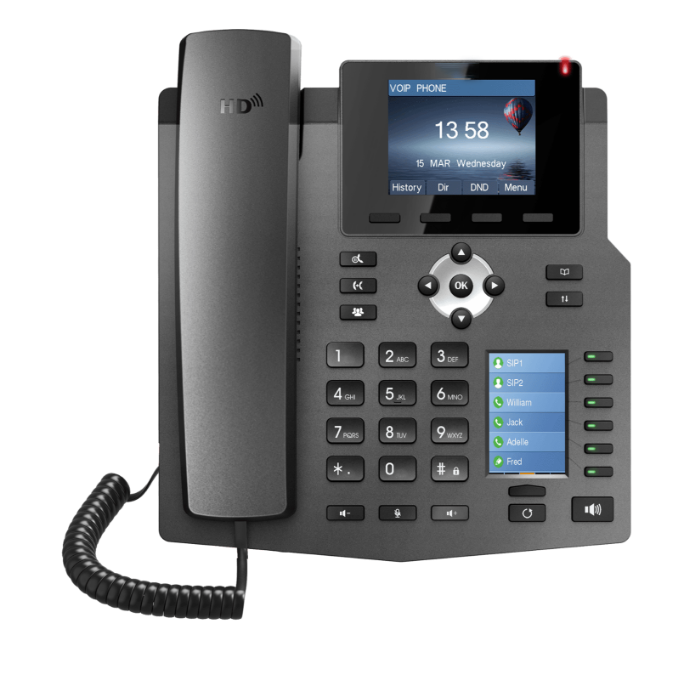 What's The Difference BetweenA PBX And My Old Phone System?
If you had more than one telephone or device connected to your phone number, your old telephone system was likely managed by some version of a PBX as well. What has changed over time is how phone data is sent, how your system is managed, and the additional freedom and flexibility that a modern PBX can provide.
---
Analog PBXs:
In the past, PBXs used an analog signal that was carried over the Public Switched Telephone Network (PSTN), a network owned and operated by the telephone companies. Essentially, when you made a call it would go out through your telephone service provider, who would route it to the receiver's telephone company, who would then forward the call to the telephone number you were trying to call.
When the calls came into a business that had more devices than lines, a switchboard, phone operator, or menu system would direct the call to the telephone it needed to go to based on what the caller needed. However, with analog systems, this only worked if the phones were physically hardwired into the system. This meant that a PBX would only work within the confines of a particular location (there were some exceptions to this limitation, as the additional rental of special circuits (known as OPX, or Off-Premise Extension) could permit telephones to be extended hundreds of miles away, but for a significant cost).
Modern PBXs:
Today's PBXs use an electronic signal to send calls and information. There are two primary types: on-premis Internet Protocol (IP) PBX systems, and Hosted (or Cloud) PBX (both use IP technology).
PBXs that are based on IP deliver calls and information over the Internet. Rather than using physical copper wiring that was connected to the analog PSTN networks, your calls connect using virtual Session Initiation Protocol (SIP) trunks via the same Internet network your computers are connected to. SIP trunks allow you to easily add more lines without having to add more physical connections. While IP PBX systems still require a physical gateway in your office to route calls through, they are easy to move or expand upon and take considerably less resources than the older analog systems.
Hosted systems are an entirely virtual PBX phone system that is hosted in the Cloud and accessed through your Internet. Like IP PBXs, hosted PBXs use SIP trunks to handle calls and generate new lines. They are maintained by a service provider, like Face-2-Face Telecommunications, and have features that can be easily managed by logging in on your web browser. These systems generally require less hardware, and substantially cut maintenance costs as all updates and service issues are handled by the provider.
Because both options have the benefit of using high bandwidth Internet to handle calls, they provide a number of features that an analog service can't, like high definition audio, application integration, and connections to multiple types of devices, among others.
What Are The Advantages of Upgrading My PBX?
Call Management – Call management capabilities can allow you to automate certain aspects of your telephone system like setting automated attendants to guide callers to the right user, or scheduling after-hours call forwarding.
Voice Messaging – An added benefit of many digital PBXs is visual voice messaging. You'll have the ability to have your voicemails transcribed and saved to email for later reference, or to review while you're on another call. 
Mobility – There's no need to be tied to your desk phone, or even your office space with a digital PBX. Most digital PBXs allow for calls to easily be direct to cell phones or home phones, or to be quickly transferred from one user to another. In many cases, you can also connect multiple business locations to the same digital PBX. 
Conferencing – A modern PBX typically supports teleconferencing which will allow multiple users to be on the same call, even from different locations. There's no longer a need for multiple people to be in the same conference room in order to have an important meeting, or conversation with a client. 
Reporting – With features such as call recording, email transcriptions, and the ability to connect to Customer Relationship Management (CRM) platforms, it's easy to keep track of your interactions with clients, and have data on hand for employee training.
Scalability – As your business grows, it's incredibly easy for your business phone system to grow with it. A modernized PBX can allow you to add new phones, connect to computers, or even add and move new office locations with ease.
Cost Effective – Modern PBXs can substantially cut the costs associated with making calls. There's no need to pay for physical phone lines you don't need, unnecessary hardware, or even an operator to direct your calls. Plus, some providers, like Face-2-Face Telecommunications will cover most maintenance, repairs, and upgrades as part of their standard fee.
Ready to Upgrade Your PBX?
If you're ready to update your small business phone system, feel free to contact the experts at Face-2-Face Telecommunications. We offer a comprehensive Managed Phone Service Plan, complete with executive class phones, network hardware, and maintenance that starts at $35 per telephone or less. Or, we can create a custom PBX package that fits the unique needs of your business.